Total Broadcast DAB and DAB+ Trials
Total Broadcast is the only independent company in Ireland currently running a DAB multiplex.
We're running the multiplex in the south-east of Ireland, from sites in the Blackstairs Mountains and Waterford City, under a Trial Licence from ComReg. This is a development project, with the goal of producing a cost-effective method of broadcasting DAB and DAB+ in anticipation of the roll-out of a national independent digital radio network.
The trial was initiated after working closely with established leaders in the Digital Broadcasting industry such as Axcera, CRC and UBS, all of whom have provided invaluable assistance in building a viable DAB transmission solution which we are now testing.
The main Transmitter in use is an Axcera CHV100BTB, supplied by them specifically for this trial. Total Broadcast is an authorised dealer for Axcera, which includes their range of new DAB transmitters.
We're experimenting with various coding bitrates and other parameters to gauge the best and most robust method of transmitting DAB.
Also, uniquely, we've got several DAB+ channels on air. DAB+ is the next generation of digital radio - it features better spectrum efficiency than traditional DAB, enabling more and better quality stations to be carried.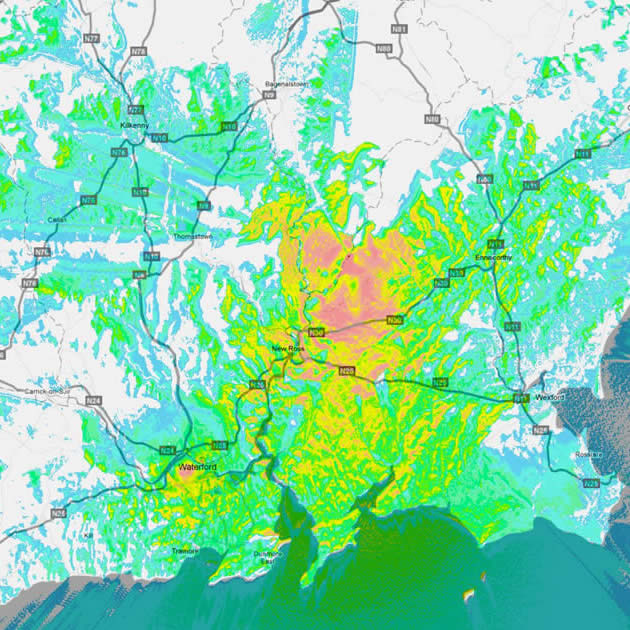 (Blue is Outdoor Coverage, Green and warmer is Indoor Coverage)

How to Receive DAB and DAB+
DAB radios have been available in Ireland for several years, largely due to centralised supply by UK-based chains, although lately independent retailers have started stocking DAB radios.
However care must be taken - UK-based chains tend to stock UK-specification radios, which often do not support DAB+. This will be the format used in Ireland when the system is rolled out, so its important to ensure that any radio you buy is future-proof.
Most independent Irish-based retailers are selling DAB+ compatible radios, so in this case it really does pay to support Irish shops!
In general, if a radio also supports WiFi radio, it will probably also support DAB+. These radios are known as 'Profile One' specification.
At Total Broadcast we've experimented with many different brands of DAB radios. We've found that recently-purchased radios made by Pure are usually upgradeable to support DAB+, if they don't already support it out of the box.
We like the Pure Evoke Flow, the Pure Avanti Flow, the Pure Sensia and the Pure Highway car radio DAB converter.
Some Highways sold in the UK until recently may not be DAB+ compatible, however they can be upgraded by visiting Pure's website.
The Pure Highway is hard to find for sale in Ireland at the moment, but we can supply this radio with full Irish, DAB+ specification. Please contact us for details of how to purchase. We can also recommend DabOnWheels if you are interested in a complete in-car DAB solution. From our experience we recommend you choose an external aerial with 5 or 6 stars on their rating system in order to assure optimal reception.
Another problem with buying a UK-spec DAB radio is that the UK DAB band is slightly different from the Irish band. If you have a DAB radio and it won't receive the TOTAL-DAB multiplex, you will need to go into the unit's setup menu and find an option to carry out a 'full scan'. A 'quick scan' or 'autoscan' may not scan the full Irish band.
Or you could enter 'manual scan' and select channel 9B - this is the channel the TOTAL-DAB multiplex uses.
During the course of our DAB trials, the parameters of our multiplex will change often as we try various things out - so it may stop working sometimes. If this happens its advisable to carry out a full factory reset of the radio, to ensure it picks up the new settings.
We've maintained a log of our progress with the TOTAL-DAB multiplex; Important developments will be listed here as they happen:
DABlog:
The Waterford City site has been switched on with low power and is operating as a SFN in combination with the Blackstairs site. Gaps in coverage in Waterford have been filled in as a result and testing will continue in the coming weeks with this site.
UCB Ireland is has joined the multiplex and is using DAB+ encoding. Depending on the receiver type, a rescan or 'trim station list' may be required.

Antenna system at main DAB transmitter site replaced with Kathrein system. 6dB increase in signal strength noted in Waterford and Wexford areas.
Radio Nova 100 has become the latest participant in our DAB trial. With audio for their DAB feed processed by an Optimod PC-1100, we are able to optimise their audio processing to produce the best results for both DAB & DAB+ transmissions. Initially standard DAB (MPEG2) will be used to evaluate various parameters and in the coming months we shall change it to DAB+ (AAC+).
DAB+ Services (KCLR & TippFM) have resumed.
South-East-Radio has changed encoding system and is now in 48k Stereo DAB+. A rescan may be required.
Transmissions from the Blackstairs site may be at lower than normal power during the coming weeks during necessary upgrade works at the transmission site.
DAB+ Stations (KCLR & TippFM) will be off-air during the coming days pending upgrades to the AAC+ encoder system.
Some changes in the configuration of the multiplex have been made. You may need to perform a rescan or 'Trim Station List' depending on how your radio treats the new changes in order to remove duplicates.
DAB+ channels returned. RTE 2XM is now on a DAB+ channel, the first
time an RTE station has broadcast in DAB+.
Some changes made to multiplex - a rescan may be required. 'Christmas FM' now carried. Some antenna work carried out which has improved reception in marginal areas.
Stations now carried: Beat 102-103; WLR-fm; KCLR96FM; Tipp-FM; South East Radio; UCB Ireland; TalkSport; RTE 2XM; Radio Nova; 4FM; Christmas FM; Sunshine Radio; Phantom FM.